Animal Umbrella

Mission

Founded in 1985. Animal Umbrella is a strictly no-kill volunteer organization dedicated to the rescue, care and adoption of abandoned cats and kittens. We believe in rehabilitation not destruction and make a special effort to find special homes even for highly unadoptable animals because of handicap, injury, age, behavior, feral status (after being socialized) and FIV or FELV positive.

ANIMAL UMBRELLA STREET CATS SHELTER ADOPTIONS

Tuesday & Thursday
Evenings 6:30 to 8:00 p.m.
Saturday 12:00-5:00 p.m.

Please call to set up special
appointments.
One Neptune Blvd., Lynn


Located on the second floor of the North Shore Animal Hospital.

Please use side entrance. Call for directions.


MAIL ADDRESS:
P.O. Box 2675
Acton, MA 01720-6675
Tel: (617) 731-7267
The Animal Umbrella Messenger, the official newsletter of Animal Umbrella, Inc. is published quarterly.
Managing Editor: Annamarie Taylor
Contributors: Names vary from issue to issue
Typesetter: Hope Berndt
Printer: Copyland, Acton, MA
SERIOUSLY COMMITTED VOLUNTEERS
Wanted for day, evening and weekend shelter maintenance, cat care, fund raising, transportation, cat rescues, etc. Your involvement can make a difference to the life of many abandoned animals! We are a strictly no-kill humane organization.
Call us at (617) 731-7267 today!

---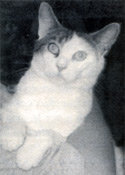 Animal Umbrella is deeply grateful to the Moose Lodge, a national fraternal organization dedicated to promoting charitable community work for their support of our cat rescue work. Several lodges in Massachusetts have been allowing us to use their facilities to hold fund raising and cat adoption events. The Dedham Moose Lodge was the first to open its doors to us. We are especially grateful to Mr. Richard Finn who was instrumental in starting this relationship. Mr. Finn has also helped us contact Moose Lodges in Waltham, North Reading and Braintree to expand this network. When we held our first event at the Dedham Moose Lodge a few months ago
we saw an abandoned cat kindly cared for by the members of the lodge. Moose came to greet us in the parking lot looking for food and affection. As a rain storm was approaching we decided to end his two year ordeal in the streets and took him to the shelter. Moose has now been adopted by a very caring family.